The Maritime Heritage Project
A Small Selection of Research Resources
Because hundreds of fine research sites exist focusing on maritime history, following are a few California-based research libraries as that is the base for The Maritime Heritage Project.
California Research Centers
The Bancroft Library
The Bancroft Library officially dates from 1905, when the University of California acquired Hubert Howe Bancroft's personal library. However, it was actually started 42 years earlier, when Bancroft discovered 75 volumes pertaining to California and the West on the shelves of his own San Francisco bookstore. The Library includes the Mark Twain Papers and Project, the Regional Oral History Office, the University of California Archives, and the Pictorial Collection. It has become one of the largest special collections in the United States.
The California Historical Society
Collections of historical documents and manuscripts including fine arts, photographs, texts, maps and several special collections found nowhere else in the country.
678 Mission Street, San Francisco, CA 94105
The J. Porter Shaw San Francisco Maritime Library
The San Francisco Maritime Library at Fort Mason has an extensive collection of reference materials for maritime researchers. It is filled with photos, historical papers, books on California maritime history, photographs and additional information on the ships listed at this site. Well worth a visit and open to the public; call first as the Librarian may have to meet you there.
National Archives and Records Administration, Pacific Region
Contains nationwide holdings relating to family history/genealogy research and veterans' service records, reproductions, NARA Archival Information Locator (NAIL) database, Government documents and library materials, and more. Their Northern California office is at:
NARA - Pacific Region (San Francisco)
Archival Operations Staff (NRHA-S)
1000 Commodore Drive
San Bruno, CA 94066-2350
(Approximately 12 miles south of San Francisco)
Holdings include records from Federal agencies and courts in northern California, Hawaii, Nevada (except Clark County), the Pacific Trust Territories, and American Samoa. Call 650-876-9009 for information. They also have ships logs from about 1880 onward.
San Francisco Public Library, Main Branch
The Main Branch at 100 Larkin Street, San Francisco holds microfiche of newspapers published in early San Francisco — invaluable to any researcher. Collections include an African America Center, Chinese Center, Filipino American Center, San Francisco History Center (invaluable reference works), San Francisco Photo Collection.
The Oakland Museum of California
The Oakland Museum has ongoing displays of early California artifacts, including a model gold assayer's office, a fire engine and a classic carriage. The Oakland Museum features collections of art, history and natural science under one roof to tell the extraordinary stories of California and its people. With more than 1.8 million objects, OMCA is a leading cultural institution of the Bay Area and a resource for the research and understanding of California's dynamic cultural and environmental heritage.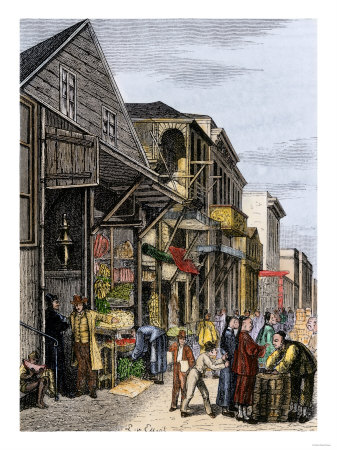 Busy Chinatown Street, San Francisco
1880s
The museum also features displays of the State's indigenous cultures and flora and fauna. This is an excellent resource for learning about California through comprehensive displays.

General information: 510 318.8400
Chinese Historical Society
This small museum focuses on the Chinese experience in America, from the Gold Rush to present day. This is the oldest and largest organization in the country dedicated to the documentation, study and presentation of Chinese American history. Exhibitions, publications and porgrams promote the contributions and legacy of Chinese America.
Students have opportunities to interact with a person that provides an eyewitness account of historical events. These characters retell their life stories and engage audiences in a rich portrait of the Chinese American experience. Each presentation is in the traditional Chatauquan format, the presenter will speak about their life in character, then the audience will be allowed to ask questions of the character, and then the presenter will come out of character and answer questions.
An Artist-in-Residence and renowned storytellers will entertain children with stories and fables. A performance of classic myths and legends in the traditional teahouse style. Hear stories of heroes and heroines of China's 4,000 year history. 965 Clay Street, San Francisco. 415 391 1188
Notable Maritime Museums
Smith's Master Index to Maritime Museum Websites
Smith's Master Index to Maritime Museum Web Sites is helpful for researchers seeking information from all ports. His list includes Virtual Maritime Museums.
United States: National Historical Maritime Park, San Francisco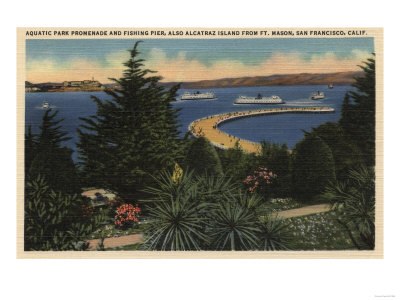 San Francisco, California
View of Aquatic Park Pier,
home to the historic, renovated Balclutha
Houses an impressive collection of large-scale model ships to the larger-than-life figureheads that once crowned the bows of Gold Rush-era clippers, and Gold-Rush era photographs.
The Museum features special exhibits and discussions relating to the Gold Rush. The Maritime Historical National Park, which is adjacent to the Museum, has a large collection of historical vessels. Some are open to the public and the Pampanito is available to scout troops for overnight adventures. Beach Street at the Foot of Polk, just two blocks from Fisherman's Wharf, across from Ghirardelli Chocolate Factory, San Francisco.
United States: Mystic Seaport, Connecticut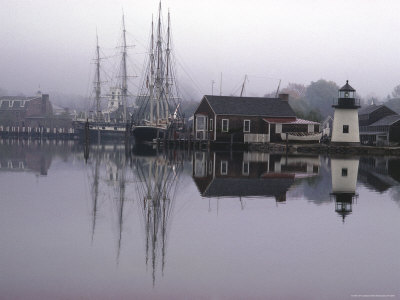 Scenic Harbor View with Masted Ships at Mystic Seaport
Alfred Eisenstaedt, Photographer
On December 29, 1929, Edward E. Bradley, an industrialist, Carl C. Cutler, a lawyer, and Dr. Charles K. Stillman, a physician, signed the papers incorporating the Marine Historical Association, today known as Mystic Seaport. Their dream: create a dynamic, educational institution to preserve America's maritime culture – and turn the achievements of a past era into an inspirational force for the future. Over the next 50 years, Mystic Seaport experienced explosive growth, amassing the world's largest collections of maritime photography (over 1 million images) and boats (nearly 500), as well as collecting two million other maritime artifacts. And the 1970s saw the creation of the Henry B. duPont Preservation Shipyard, additional exhibition buildings and several new accredited educational programs. By the 1990s, Mystic Seaport was widely recognized as the nation's leading maritime museum. In 1996, Mystic Seaport underscored its mission to create a broad public understanding of the relationship of America and the sea with a six-week seminar entitled America and the Sea, which encouraged college professors from around the country to incorporate maritime history into their teachings. If you get a chance, include Mystic Seaport on your list of favorite family vacations!
United States: South Street Seaport Museum, New York
One of our all-time favorites; during a "theatre" trip to New York, we stayed at the bottom of Manhattan. Locating this museum was a pleasant accident as we wandered along the waterfront. Founded on May 22, 1967, and revitalized under the management of the Museum of the City of New York, the South Street Seaport Museum features three floors of galleries in Schermerhorn Row opened on January 25, 2012, with 16 historic and contemporary installations interweaving the city, the sea, and the Seaport neighborhood. Also welcoming the public once again are the lightship Ambrose, with a brand-new hull, and schooner Pioneer, with new sails and a new transmission—as well as the 19th-century letterpress print shop Bowne & Co., Stationers. Thousands of children and teachers have already participated in re-launched education programs, and a lively slate of lectures, symposia, and tours is underway.
12 Fulton Street, New York City (Lower Manhattan). 212.748.8600
United States: National Maritime Historical Society, United States
Founded in 1963, the Society is a not-for-profit membership organization whose mission is to raise awareness of our nation's maritime heritage and the role seafaring has played in shaping civilization, through publications, educational programs, sail training and the preservation of historic ships. The National Maritime Historical Society is a voice for America's maritime heritage—helping to raise awareness of our nation's history and the role seafaring has played in shaping the United States of America along with the rest of the world.
England: Royal Museums, Greenwich
The Maritime Greenwich World Heritage Site is particularly noted for its magnificent architecture, beautiful parkland and a lively town centre.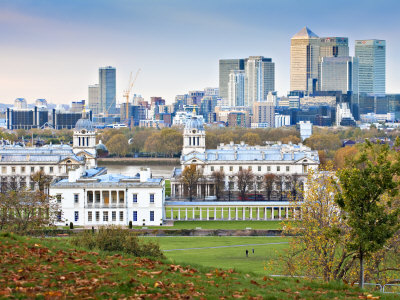 Royal Greenwich Park, National Maritine Museum
Jane Sweeney
The site consists of the National Maritime Museum, the Royal Observatory Greenwich and the Queen's House; they work in collaboration with The Cutty Sark Trust. Greenwich began to develop as a cultural visitor destination with Sir James Thornhill's completion of the Painted Hall (1707–26) in what is now the Old Royal Naval College (founded in 1694 as the Royal Hospital for Seamen). From 1823 a "National Gallery of Naval Art," eventually including 300 portraits, paintings and artifacts, was created in the Hall, the first of its kind. A separate Naval Museum was also established in the Hospital buildings when it became the Royal Naval College – the "Navy's university," 1873–1998.
The National Maritime Museum was formally established by Act of Parliament in 1934 and opened to the public by King George VI on 27 April 1937. The Museum has the most important holdings in the world on the history of Britain at sea, including maritime art (both British and 17th-century Dutch), cartography, manuscripts including official public records, ship models and plans, scientific and navigational instruments, time-keeping and astronomy (based at the Observatory), and in many other categories.
Its British portraits collection is only exceeded in size by the National Portrait Gallery and its holdings related to Nelson and Cook, among many other individuals, are unrivalled. It has the world's largest maritime historical reference library (100,000 volumes) including books dating back to the 15th century.
It is a pleasant day tour for the family; tour boats leave from various points in London along the Thames.
New Zealand Maritime Museum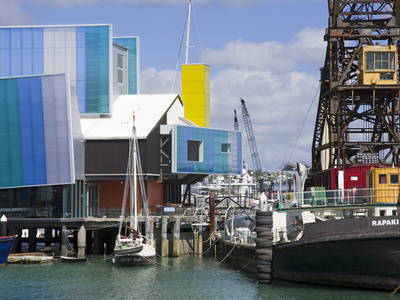 National Maritime Museum, Auckland, New Zealand
Richard Cummins, Photographer
After our first visited the New Zealand in 2002, this Maritime Museum become a family favorite.
The museum is situated along Auckland's splendid waterfront, a ferry-boat ride away from lovely Devonport, and near historical buildings.
It houses stories of amazing journeys, courage, exploration and it houses records; this is where we first found records of Captain James H. Blethen's voyages to Australia and New Zealand during the 1800s when he opened the mail routes between the Sandwich Islands (Hawaii) and southern ports.
From their pages: A visit to Voyager begins by retracing the steps of the first human settlers to sail to New Zealand. "Te Waka: Our great journey" is a ten minute fully animated film which retells the mighty story of the arrival of the first migratory voyage to Aotearoa some 1,000 years ago. This epic adventure overcame monumental challenges to set the tone for New Zealand's pioneering future. Their acquisitions include:
Polynesian and Maori vessels and navigation
European voyages of discovery
Settlement and immigration
Early coastal trading
Whaling and sealing
Lifeboat services, piloting and coastguard activities
Navigation and marine surveying
Maritime art and crafts
Maritime trades
Harbour and port history
Curacao (Kingdom of the Netherlands): Curacao Maritime Museum
The Curaçao Maritime Museum takes visitors on a discovery tour through more than 500 years of the maritime history of Curaçao. The museum lays out the story-line through their permanent exhibition of displays with authentic nautical charts, ship models and navigation equipment combined with audiovisual techniques. The museum is a short walk from ports of call for major shipping lines docking at the colorful town of Curacao; it features a fine restaurant with views of the town and harbor.
A Few Online Immigration Sites
California Bound: 1848-1873
Ship Passenger Lists, Wagon Train Lists, Isthmus of Panama Passenger Information. California Bound lists were initially the work of John Ireland from 1999 to 2008. In 2008, he asked SFgenealogy to take them over. They have been maintaining them since 2008. The passenger lists have been transcribed from microfilm of the New York Daily Times, the New York Herald, the New Orleans Picayune, the Panama Star, the Panama Herald, and the Boston Daily Evening Transcript. When possible, passengers were linked to the ship they later boarded on the Pacific side of the Isthmus for the final leg of the journey to San Francisco.
Maritime History Virtual Archives
A Guide to Maritime History on the Internet: The Maritime History Virtual Archives
A gentlemen named Lars Bruzelius has put up the most impressive site of: Bibliotheca Nautica, Bibliographies and Antiquarian Bookshops; Etymology, including Dictionaries; Biographies; Societies; Conferences & Lectures; Maritime and Naval Museums; Ship models; Shipbuilding and Naval Architecture - Mainly wooden shipbuilding; Masting and Rigging; Seamanship; Ships - Mainly sailing ships from the second half of the 19th century; The Duties of Officers and Men; Maritime History, including Shipwrecks and other Disasters at Sea; Naval History; images of ships and ship models; Health of Seamen, with a couple of quotations on scurvy.
Schoonerman
A site for lovers of all tall ships. Schoonerman has details and photographs of schooners, brigs, brigantines, barks and fully rigged tall ships. If you love the history of the sea or the feel of the wind, don't miss this site.
Virtual Museum of San Francisco
The Museum's Web site features stories of San Francisco through the years. Well organized, excellent collection of facts and photographs chronicling the growth of one of the world's greatest cities.
Immigrant Ships Transcribers Guild (ISTG)
The Immigrant Ships Transcribers Guild includes links for researching emigration, immigration and naturalization, 100+ passenger list sites, ethnic research, libraries and archives, passenger ship types, descriptions and images, and additional worldwide maritime information available both on-line and off-line.
Art Prints of Ships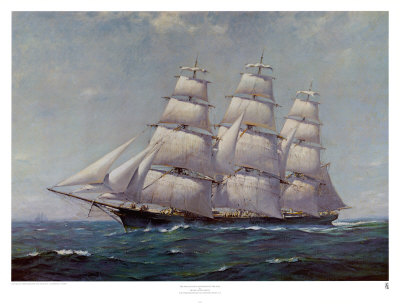 Donald McKay's Sovereign of the Seas
The first ship to travel more than 400 miles in 24 hours.
Her dimensions 258.2 x 44.7 x 23.6. 2420 tons
Art prints are available by clicking on the image.
This store is brought to you by
The Maritime Heritage Project
The "Fighting Temeraire"

Crescent Moon

Belem

USS Constitution

Empress Of The Seas

John Paul Jones's Ship, Bon Homme Richard

Dawn Chase

The Thermopylae Leaving Foochow

Rising Wind

The Action Between the Java and Constitution

Racing Home,
The Cutty Sark

Lynx U.S. Privateer