Ships arriving at the Port of San Francisco
---
Arrivals 1850
Please note: Generally, these arrivals are merchant ships, included to give a sense of the volume and type of goods into early San Francisco. If you had the money in San Francisco during the 1800s, you could have anything your heart desired. They are by no means complete, and passenger lists for these vessels are often unavailable. Click here for lists of passengers.
JANUARY
January 1: Mining Company schooner Roanoke, 99 tons, built 1842 in Hanover, Mass. Sailed from Boston, Mass, July 18, 1849 under command of Captain Shelley with 21 passengers. Arrived 150 days later via Straits of Magellan. Goodman reports that she was used for inland river trade after arrival, and ultimately wrecked. Other reports indicated she sailed to the Sandwich Islands.
January 2: Mining Company ship Florida, 522 tons, built 1821-22 in New York, New York. Sailed from New Bedford, Mass, August 1, 1849 under command of Master Robinson with 40 passengers. Arrived San Francisco in 152 days via Cape Horn and Callao. She was ultimate lost at sea.
January 10: Schooner Laura Bevan, Captain Pierce, arrives in 16 days from Lahaina, Sandwich Islands. Cargo: 5,000 gallons Polar oil; 250 bbls potatoes; 100 bunches of bananas; 13,000 oranges; 18 hogs; 4000 coconuts and 4 bags of coffee. Passengers: B. Palmer; G.F. Putnam.
January 11: Mining Company ship San Francisco, 268 tons, built 1849 in Cumberland, Maine. Sailed from Beverly, Mass, August 15, 1849 under command of T. Redmonds with 40 passengers. She arrived in San Francisco via Cape Horn and Valparaiso 149 days later. She traded with Manila after arrival and was ultimately wrecked.
January 14: Mining Company ship Sarah Parker, 387 tons, built 1827 at Portsmouth, New Hampshire. Sailed July 6, 1849 from Nantucket, Mass under command of J. Codd with 29 passengers and 9 crew. She was a Mining Company ship. Arrived in 190 days via Cape Horn. She was later sold abroad and ultimately condemned.
January 14: English ship England, Broin, 138 days from Liverpool
January 14: French ship Cachalot, Legrand, 150 days from Havre, 137 passengers.
January 14: French ship Surprise, Allay, 135 days from Rio de Janeiro. 6 passengers.
January 14: American bark Harriet Thompson, 238 tons. Sailed from Philadelphia, PA, July 18, 1849 under command of Captain Tilden with 2 passengers. Arrived in 178 days.
January 14: American bark Eliza Ann, 370 tons, built 1835 in Baltimore, Maryland. Sailed February 24, 1849 from New York under command of Captain Corwin (Alta California cites Cummin as Master) with 4 passengers and 12 crew. Arrived on January 14, 68 days from Panama with 169 passengers. Because she left New York with so few, she obviously picked up passengers who had crossed the Isthmus of Panama and were heading for California's gold fields. 



Placer Times, February 9, 1850

Metamorphose Extraordinary.—The bark Eliza Ann, recently arrived here from Panama, landed an individual whose sex would hardly have been ascertained from outward appearances. Presenting him or herself at Panama, our subject secured a passage hither and embarked. So completely was the lady (as she soon confessed herself to be) disguised, that discovery might have been easily evaded, but with the independence generally conceded the sex, she boldly and practically proclaimed her right to "wear the breeches," by donning a pair of most unexceptionable ones, together with all the appropriate trimmings. "Charley," as our heroine was speedily christened, took up her quarters with the crew, with whom she soon became quite a favorite; and displaying a formidable brace of pistols and a dazzling bowie knife, defied insult, declaring it to be her "holy mission" to pursue and demolish a traitorous consort, who, she said, had robbed and deserted her at New Orleans. Charley's conduct on board was quite unex-ceptionable—to-day busily perusing her wellworn bible, and to-morrow as aptly conducting a part in a game of "old sledge." No sooner had the news of the bark's arrival reached the city, than a small boat might have been descried nearing her; and he who had sworn to cherish, was soon locked in the embrace of her who had vowed to slay! The past was forgotten, and the boat conveyed the re-united pair to the shore, where doubtless, ere this, drafts have been made upon some of our merchants to enable the hero of the Eliza Ann to sail under true colors. [Alta California, 21st ult.]

January 14: English bark Duke of Roxborough, Collard, 99 days from Sydney
January 14: American bark Science, Howland, 150 days from New Bedford
January 14: Ham brig Helena, Anders, 46 days from Valparaiso
January 14: English brig Lady Jane Stewart, Roper, 31 days from Panama. 50 passengers.
January 15: English brig Enchantress, Boyes, 92 days from Sydney. 5 passengers.
January 15: American sp Sea, Spring, 154 days from New York
January 15: Bremmen brig Mentor, Lookaymo, 57 days from Pernambuco
January 16: Daily Alta California. FOR SALE — At Salas, Bascunan, Fehrman & Co.'s, California street, just arrived per ship Independence, 8 houses, of different dimensions; per ship Louisa, 5 frame houses, 16,754 alerce half inch boards, about 7 feet long; 1500 nieces scantling, 11 ft long and 3x4 inches, 1500 alerce boards, 1 inch thick, 100 pieces scantling, 24ft long and 4 to 5 inches; 120 doors, 400 bags Chilean flour, 458 bags barley, 28 bags beans, 67 bags best dried peaches, apples, etc.; 7 bags biscuit, 2 bbls salmon, 1 cask hams, 9 bbls sausages in lard, 18 bbls eggs (120 dozen), 3 bbls pickled cabbage, 13 tin jars fowls in lard, 9 cases sweetmeats, 1 bbl starch, 1 bbl arrow root, 3 cases fruit syrup, 210 pairs Chilean overshoes, 19 cushions, 53 mattresses, horn tumblers, saws, etc. j16-3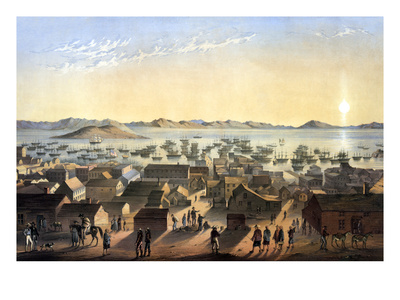 Birds Eye of the Village of San Francisco
M & N Hanhart Chromo Lithograph Co

M. & N. Hanhart was a London lithographic publishing house founded by Michael Hanhart (1788–1865) and Nicholas Hanhart. The firm's heyday is considered to have been between 1839 and 1882. They published a wide range of material including book illustrations and lithographic sheet music covers. Their best work was in the field of large chromolithographs. Hanhart used a complex layering of tint stones, to produce work unique in colouration and tonal values.
FEBRUARY