Cunard has released its 2013 sailing schedules, including the desirable around-the-world cruises which are stages of approximately 25 days. Embarkation ports include Southampton, New York, Los Angeles, Fort Lauderdale, Hamburg, Venice, Rome, Athens, Greenock, Auckland . . .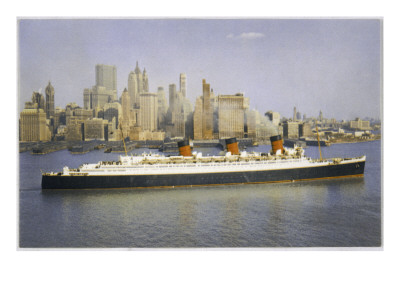 The Cunard Liner "Queen Mary" Sails Out of New York
For shorter cruises, or to test the waters to determine if you even want to live aboard while seeing the world, consider shorter legs on Last Minute Cruises
which includes:
1-night Pacific Coast Cruise from Seattle on Princess Cruises or Holland America.
A 2-night repositioning cruise from Amsterdam to Southampton, England, which includes wine tasting on board.
Disney Cruise Line's "Cruise to Nowhere" from New York to New York.
Or if you want to test Cunard before signing on for a longer cruise, consider their 2-night cruise from Hamburg, Germany to Southampton, England (or the reverse voyage). These are scheduled for August with Balcony rooms starting at $1005 and Suites at $1245.