Maritime History Books

Selections include:
The History of Seafaring: Navigating the World's Oceans
The Voyage of Verrazzano
The Sea: A Cultural History. John Mack
Six Frigates: The Epic History of the Founding of the U.S. Navy
Maritime History as World History (New Perspectives on Maritime History and Nautical Archaeology), Daniel Finamore
Sailing into the Abyss: A True Story of Extreme Heroism on the High Seas. Winner of the 2006 US Maritime Literature Award, William R. Benedetto
America and the Sea: A Maritime History (The American Maritime Library: Vol. XV), Benjamin Labaree, William M. Fowler, Jr., Edward W. Sloan and John B. Hattendorf
Principles of Maritime Strategy (Dover Military History, Weapons, Armor), Sir Julian Stafford Corbett
A Maritime History of Baja California, Edward W. Vernon
From Sea to Shining Sea: 1787-1837 (God's Plan for America), Peter Marshall
A General History of the Pyrates (Dover Maritime), Daniel Defoe
Stockwin's Maritime Miscellany: A Ditty Bag of Wonders from the Golden Age of Sail
Maritime Southeast Asia to 1500, Lynda Norene Shaffer and Kevin Reilly
A History of Arctic Exploration: Discovery, Adventure and Endurance at the Top of the World, Juha Nurminen and Matti Lainema
The Foundation of British Maritime Ascendancy: 1755-1851 (Cambridge Military Histories) by Roger Morriss
We Were Not the Savages: First Nations History – Collision Between European and Native American Civilizations, Daniel N. Paul
The History of the Ship: The Comprehensive Story of Seafaring from the Earliest Times to the Present Day
Tobacco Coast: A Maritime History of Chesapeake Bay in the Colonial Era (Maryland Paperback Bookshelf), Arthur Pierce Middleton
The Guernseyman (The Richard Delancey Novels) (Volume 1) C. Northcote Parkinson
Stories from the Maine Coast: Skippers, Ships and Storms (The History Press), Harry Gratwick
Maritime Supremacy and the Opening of the Western Mind: Naval Campaigns that Shaped the Modern World, Peter Padfield
Beyond the Blue Horizon: How the Earliest Mariners Unlocked the Secrets of the Oceans, Brian M. Fagan
A Brief History of Fighting Ships, David Tudor Davies
Berenike and the Ancient Maritime Spice Route (California World History Library), Stteven E. Sidebotham
A General History of the Robberies & Murders of the Most Notorious Pirates, Captain Charles Johnson
The Great Sea: A Human History of the Mediterranean, David Abulafia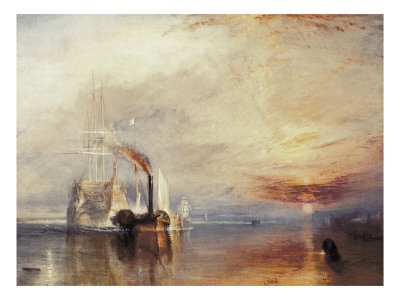 The Fighting Temeraire
William Turner
Joseph Mallord William Turner 1775-1851.
Turner, an English landscape painter, was the son of a barber. He received little general education but at 14 was already a student at the Royal Academy of Arts and three years later was making topographical drawings for magazines. In 1791 he exhibited two watercolours at the Royal Academy. In the following 10 years he exhibited there regularly, was elected a member (1802), and was made professor of perspective (1807). By 1799 the sale of his work allowed him to devote himself to the visionary interpretations of landscape for which he became famous.