Odds are your ancestors travelled by sea or via extensive overland routes during the 1400s, 1500s, 1600s, etc.
Do you know your family history? Discoveries are fascinating. 

23 pairs of chromosomes define you. Through today's DNA testing, you can bring your ancestry to life.
Find out what percent of your DNA comes from populations around the world, ranging from East Asia, Sub-Saharan Africa, Europe, and more. Break European ancestry down into distinct regions such as the British Isles, Scandinavia, Italy and Ashkenazi Jewish. People with mixed ancestry, African Americans, Latinos, and Native Americans will also get a detailed breakdown.
You'll likely discover dozens or even hundreds of people who share DNA and ancestors. The matches you'll get can range from close family to distant cousins.
Preserve your family's history by highlighting names, dates, events, and more.
Genetic testing for genealogists has gone mainstream, with costs plummeting as private companies refine their techniques and improve the accuracy of results. For as little as $99, anyone can order a do-it-yourself kit that comes in the mail, then submit their spit for analysis and receive results within six weeks.
Genealogy hobbyists compare locating family tree to a scavenger hunt, laden with clues, surprises and dead ends.
Recently, scientists used the technology to confirm the identity of a skeleton buried beneath a parking lot in Leicester, England, as King Richard III, who died in battle in 1485. The scientists matched the bones to two living maternal-line relatives, according to the University of Leicester, which conducted the analysis along with radiocarbon dating and a skeletal exam.
Closer to home, not everyone is excited about the DNA technology, as some remain cautious about privacy or simply don't see the need. But for others who are adopted or are trying to explain a gap in their family tree, the tests may provide a crucial breakthrough, experts said.
"I think a lot of people find it of use to them, personally, especially if they are searching for a form of identity they are able to uncover in this way," said Noah Rosenberg, associate professor at Stanford University's Department of Biology and expert in evolutionary biology and genetics.
"Many people have a missing relative or have a parent die young and are searching for some kind of connection," he said. "We see a significant trend where African-Americans are searching for some understanding of the populations from which their ancestors originated from Africa."
There are no federal regulations that govern the direct-to-consumer ancestry tests, said Hank Greely, a Stanford law professor who specializes in the ethical, legal and social implications of new biomedical technologies. Basically, both state and federal regulation only cover tests sold or done for health purposes.
Popularized in recent years by its use in high-profile criminal investigations and paternity cases, DNA, deoxyribonucleic acid, is most commonly used to prove a relationship to an individual.
New tests created in recent years, however, have also turned DNA into a popular tool for determining ancestry. As DNA is passed down from one generation to the next, some parts remain almost unchanged, while other parts change greatly. This creates a link between generations and it can be of great help in reconstructing our family histories. While it can't provide you with your entire family tree or tell you who your ancestors are, DNA testing can:
Determine if two people are related
Determine if two people descend from the same ancestor
Find out if you are related to others with the same surname
Prove or disprove your family tree research
Provide clues about your ethnic origin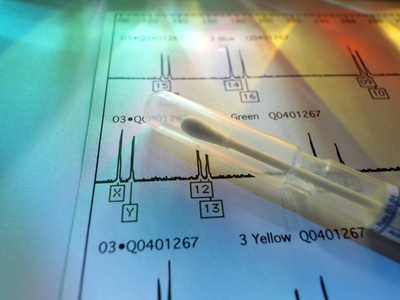 Genetic Testing
DNA tests have been around for many years, but it is only recently that the cost of genetic testing is becoming affordable for average families  interested in tracing their roots. It is now possible to Map your global origins with the most complete coverage of your DNA.
through home DNA test kits which can be ordered through the mail or over the Internet.