A few questions that you may be able to answer…
Firstly, you list the cargo of several ships that carried window glass to San Francisco. Where did this information come from – a citation, if you will. I was a volunteer at the Vancouver Maritime Museum some time ago and sorted through teak boxers full of ships logs – the formal ones submitted to the harbourmaster. Were these or something like that, your source?
Secondly, assuming the source for ships' cargo is somewhere available, where? Is there some central depository or is it simply finding one, then another?
Thirdly, if you have access to such material, is is possible to sift through that to find other ships carrying window glass. The two examplars from Liverpool and NYC are wonderful, but are there more?
Thanks much for any help you may be able to provide…
Regards, W. A.
Response: Window Glass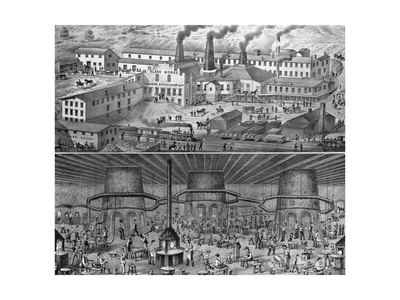 The Glassworks of J. H. Hobbs
Brockunier and Co., Wheeling, West Virginia
Glassmaking goes back about 4500 years. Interesting to note that glassmaking processes have evolved quite slowly. Plate glass, i.e. window panes, were still crude during the 1800s. They require complex high-temperature chemical and mechanical processes.
For your purposes, much of my information comes from the California Digital Newspaper Collection — an Excellent FREE research resource: CDNC.ucr.edu.
For a generic search, type in "Window Glass." Or narrow it down by year for a more focused search.
For cargo, just type in "cargo" or "importations", i.e. On October 22, 1870, the Daily Alta California notes: "PORT STANLEY – Per Hamilton – . . . 7978 cs 95 envelopes window glass, etc."
Above: Ad for window glass: August 31, 1866, Daily Alta California, San Francisco — on the first page of the newspaper: includes Window Glass, Crystal Sheet, Plate Glass, Mirrors. A duplicate ad is in the September 2, 1866 Daily Alta California.
Stories of glass in America: Glass in America and here: Window Glass, which has an article on curved windows, which were installed in many San Francisco Victorian homes. We grew up with curved glass windows that were made in, I believe, Philadelphia.
Lloyd's of London — listed on this page: Lloyd's of London. For ships they insured, they maintained lists of cargo.  Lloyd's has been around since the 1600s, they are thorough, and they  have substantial archives. Story of Lloyd's of London
Corning Museum of Glass
From Corning Museum of Glass:  Glass manufacturers had spent centuries learning how to make flat glass.
Now, they wanted to bend it into complex shapes—without marring its surface. Anything that touched the surface of the hot glass could leave a mark.The first curved windows were made by slumping. A glass sheet was placed in a gravity mold that touched only its edges, then was heated from above until it sagged into shape.
Slumping worked for windows with simple curves, but it was of no use for making the more complex shapes that car designers demanded.
For its 1984 Firebird, General Motors asked for an exotically contoured window. Until that time, there was no way to make the complex curves without touching the glass. American glassmaker Libby-Owens-Ford applied for the: Original Patent Application No. 865107 For a Method and Apparatus for Bending Glass Sheets. (Ohio, USA)
. It tried press-bending the precisely heated glass in an experimental full-contact mold made of a high-tech ceramic. The process worked. For the first time, glassmakers could totally control the shape of a window without marring its surface.