Passengers arriving at the Port of San Francisco
SS Fremont
Arrive San Francisco
July 29 1851
SS Fremont
Captain McLane
From Panama

Passage
Daily Alta California, Shipping Intelligence, Port San Francisco, July 30, 1851
Arrived July 29: 27 days from Panama. 53 passengers. To E. Knight
Cargo
1 case merchandise, 36 packages, 2 box, 3 trunks, 2 cases. Consignees: G.A. Van Bokelin, John McCracken, D.L. Flanagan, Evans & Carter, J.F. Atwill, Lazard Freres, J. W. Gregory, Gibb & Holt, Dodge & Co.
Passengers
Ackley (Alta indicates "Three Mr. Ackleys" -- no first names or initials)
Andrews, Mr.
Barrett, M.
Berger, Mr. and wife
Bird, M.
Brisbee, A.
Burrows, A. M.
Butler, J. W.
Cambridge, Capt.
Carson, John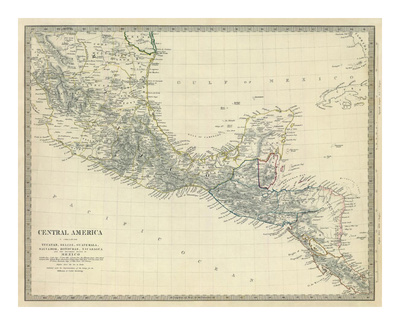 Central America, Southern Mexico, c.1842
Reproductions available by clicking on the image.
Cavan, James
Clark, Miss
Coats, J.
Coats, Thomas
Cowan, W.
Crappe, John
Criswell, C.
Crypson, R.
Curtis, J.A.
Darrow, J.H.
Davis, P.
Elliott, S.
Evans, Richard and servant
Haliburton, Mr. and two servants
Haliburton, Mr., Jr.
Hamilton, Mr.
Hathaway, S.
Hoffman, D.B.
Hook, W.
Humphreys, D.
Johnson, A., wife and child
Ketchum, E.S.
Liender, F.
Lockett, E.F.M.
Lockett, M.
McIntyre, A.
Millerson, M.
Murphy, D., wife and two sons
Otis, Mrs.
Packard, S.C.
Patton, R. E. and servant
Pride, Mrs. and child
Sheam, Mrs. and daughter
Smith, Robt
Smith, Thos
Tacy, Mr.
Torrey, D. J.
Valentine, Miss and two servants
Warner, Henry
Whorle, Mrs. W.
Wilson, P. J.
Wood, Abram

~ ~ ~ ~
The passage across the Isthmus of Panama from Eastern Seaboard ships to West Coast Ships bound for San Francisco
Prints available by clicking on the image.